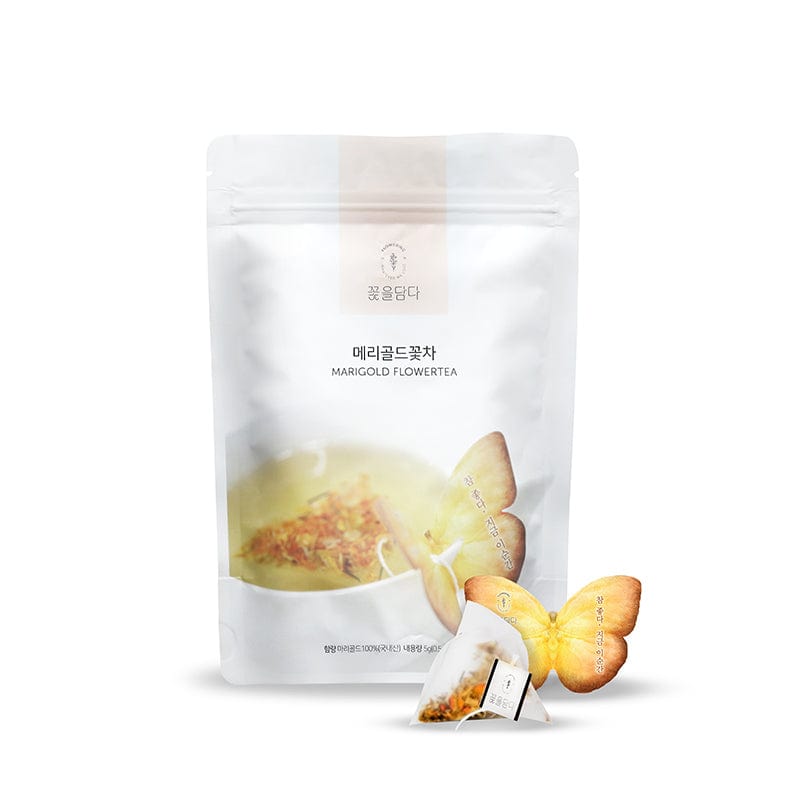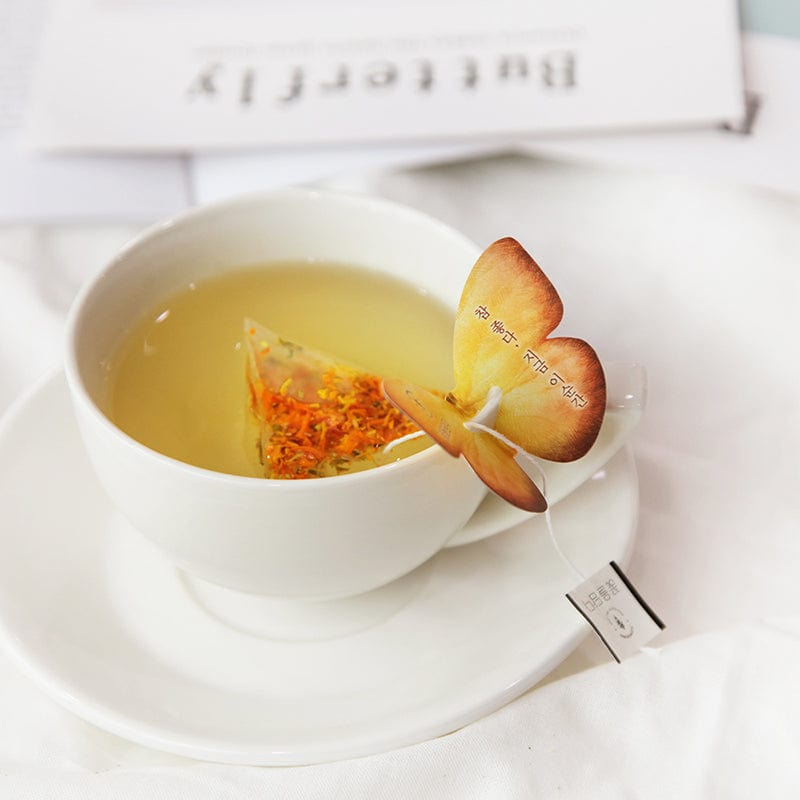 Marigold Butterfly Tea Bag Pouch (10ea)
$19.00
Regular price
$21.87
---
Free shipping on orders over $100
Marigold Butterfly Tea Bag Pouch (10ea)
$19.00
Regular price
$21.87
- Marigold
Marigold grows well in warm temperatures from May to October
Marigold tea has a sweet scent and taste
The combination of yellow and orange flowers is very beautiful to look at.
🦋 Butterfly Flower Tea Bag 
Butterfly Flower Tea bag is designed to look like a butterfly sitting on the top of glass
It is the form of a tea bag with butterfly-shape holder, so you can drink it easily
All of KKOKDAM Flower Tea products are made in Korea 
KKOKDAM provides 100% hand-made products with full of sincerity
KKOKDAM does not add any food additives and provides a natural flavor
KKOKDAM products are all decaf, caffeine free.
🍵Butterfly Flower Tea Bag Pouch
This Butterfly Pouch contains 10ea individual butterfly teabag and
It's packaged one by one, so you can easily make a cup of flower tea and drink.

Of course, If you are a tea-lover, you can also drink this fancy flower tea
as a café-at-home menu or valuable gifts!
How to Drink Butterfly Flower Tea Bag?
🍵 Please put a tea bag into the cup
🍵 Fix the tea bag with butterfly holder on the top of glass.
🍵 Pour hot water over 95 degrees (about 300ml)
🍵 While the tea is brewing, block the top of the cup so that it is blocked from cold air.
🍵 Please wait for 1~2 minutes.
🍵 Enjoy the rich taste and fragrance of flower tea with your eyes, nose and mouth.
How to Fix Butterfly Tea Bag Holder
🦋 Place the tea bag tag in the center of the butterfly holder.
🦋 Fix the butterfly holder to the top of glass.
*Package size
Width x Length x Depth (Inch)
5.1 x 8.6 x 1.9
#Decaf #Caffeine Free #Halal #Kosher # Artificial flavoring free #Vegan #Vegitarian #FDA #ISO22000 #No food additives #Sugar free
FAQs
It's my first time drinking flower tea, how should I drink it?
There is a coating film that occurs naturally during the manufacturing process of flower tea. It is recommended to make flower tea using hot water above 90 degrees boiled in a pot or an electronic pot.
The color of the flower tea is different from the product image, is it okay to drink it?
Since it is a flower collected from nature, The color of the petal can vary depending on the harvest time and variety.
Why was the flower tea crumbled and delivered?
KKOKDAM is doing all the work manually by human hands. Petals may be separated during the process of packaging or shipping, but we only ship products that have no problem with drinking.
What is the expiration date and how to store the flower tea products?
The expiration date is 24 months from the date of manufacture, and the expiration date is marked individually on the product. 
Please store flower tea products in a cool and dry place to avoid direct sunlight.
Shipping
Fast shipping
We ship worldwide. We ship within 1-2 days after placing an order, and we also provide expedited shipping service for gifts.
Shipping costs vary depending on the country you are shipping to and can be found on the checkout page.
Order tracking
The 'Tracking Number' can be found in an email containing the order details that will be sent upon completion of your purchase.
Get in touch
If you have any questions about products, orders or wholesale, please contact us.