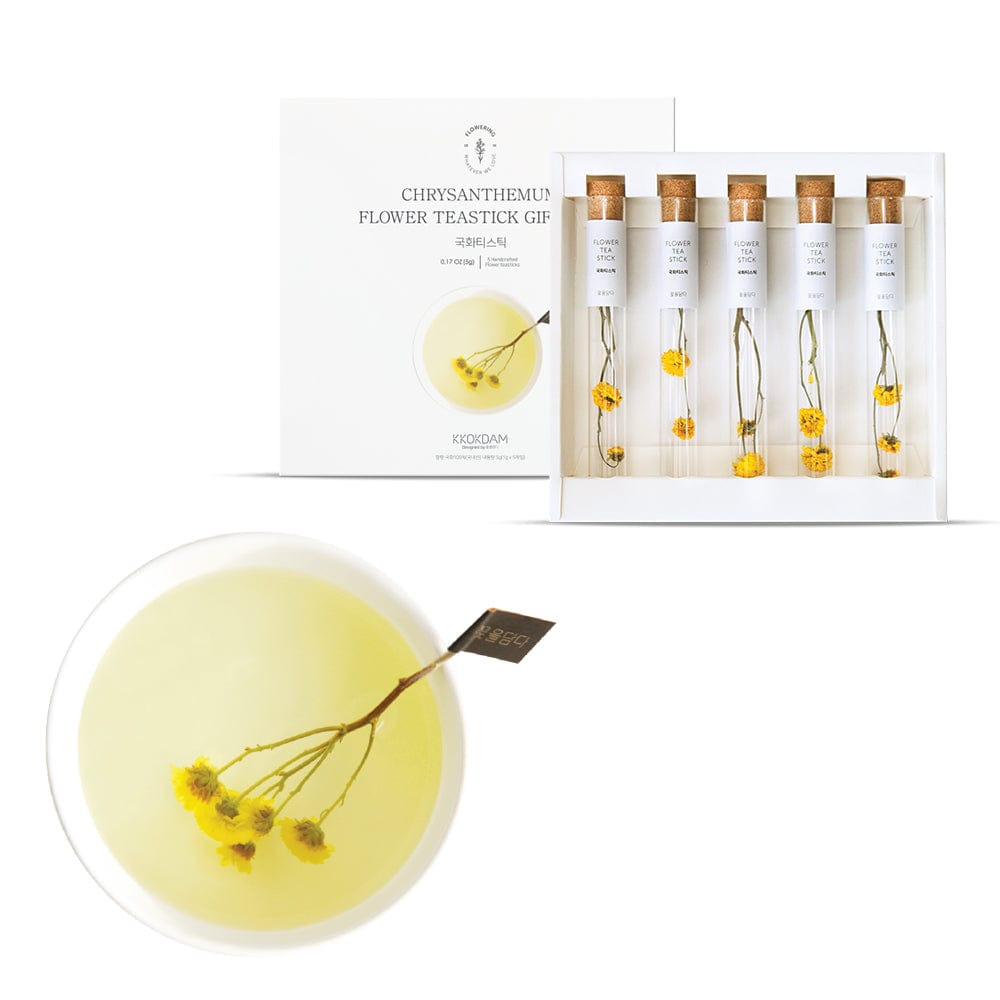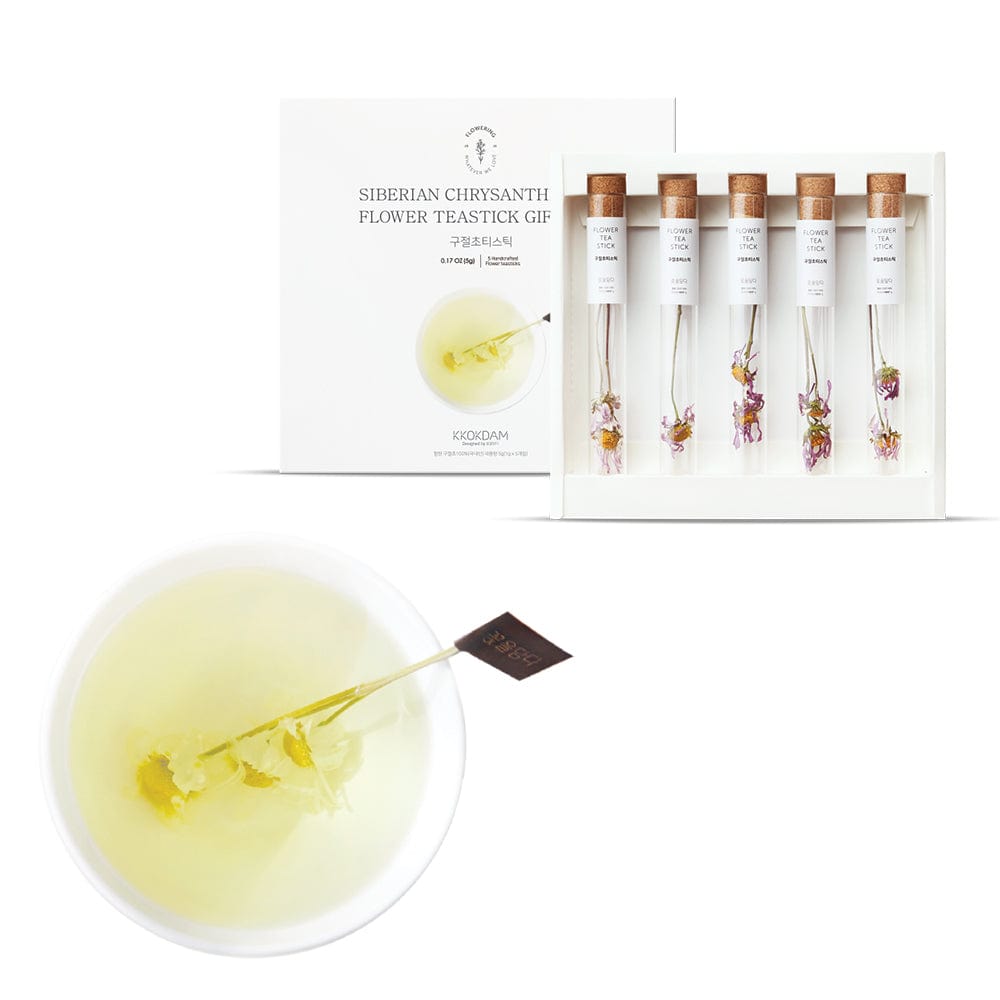 KKOKDAM 5 Kinds of Flower Tea Sticks Gift Collection
$125.00
Regular price
$137.50
---
Free shipping on orders over $100
KKOKDAM 5 Kinds of Flower Tea Sticks Gift Collection
$125.00
Regular price
$137.50
💐 Flower Tea Stick ?
Flower Tea Stick is a brand-new idea and concept of tea.
It is made in the shape of flower with its stem.
Flower Tea Stick is self-designed and created by KKOKDAM.
KKOKDAM has a design patent right in regonition of its originality and creativity.
It is a special tea that you can drink easily like a tea bag.

You can enjoy high-quality tea while looking at the beautiful flowers blooming from the stem.
5 Kinds of Flower Tea Stick Gift Collection 🎁
Flower Tea Stick Gift Set is one of KKOKDAM's Signature & Best Seller Products.
This collection consists of 5 kinds of Flower Tea Stick Gift Set packaged with luxurious  gift box.
Each Flower Tea Stick Gift Set has 5ea Flower Tea Sticks in the fancy glass test tube.
Also There are people who use this as home decoration or interior props :)
We hope you can feel the joy of giving and receiving at the same time.
+ what's included ?

Comp1. Chrysanthemum Flower Tea Stick Gift set (5ea)
Chrysanthemum tea sticks are the cleanest and least strong scent and taste. Chrysanthemum is for those who are new to the flower tea. We highly recommend this lovely flower tea with yellow flowers as a gift.
Comp2. Siberian Chrysanthemum Flower Tea Stick Gift set (5ea)
Siberian Chrysanthemum flowers, which can be easily found in Korea in September which is known to be good for women and is known to warm hands and feet. The tea has a mild, flowery flavor similar to chamomile.
Comp3. Bridal Wreath Spiraea Flower Tea Stick Gift set (5ea)
Bridal wreath spiraea is a beautiful flower tea with a subtle scent and blooming petals. It has fresh scent and sweet taste. Highly recommend this as a lovely flower tea with beautiful and small petals.
Comp4. Mugwort Flower Tea Stick Gift set (5ea)
Mugwort tea has a savory and light scent and is a flower tea that most women like. Highly recommended for those who want to taste most similar to Korean traditional flower tea.
Comp5. Korean mint Flower Tea Stick Gift set (5ea)
Korean Mint is a mint tea with a cool scent and taste. Highly recommend it to those who like herb tea like peppermint. The cool scent and taste will refresh your mood.
How to Drink Flower Tea Stick ?
🌿 Pour hot water into the tea cup to heat and clean the cup
🌿 Discard the water and put the flower tea stick in the cup  
🌿 Pour hot water over 95 degrees again (300ml)
🌿 While the tea is brewing, block the top of the cup so that it is blocked from cold air
🌿 Please wait for 2~3 minutes
🌿 Enjoy the rich taste and fragrant of flower tea with your eyes, nose and mouth
🌿 Flower tea has enough taste and fragrance
💡 FYI, Flower tea has enough taste and fragrance, even if you brew it with 300ml hot water 3 times in a row
💡 One Flower tea stick can be brewed about 1 liter and it's enough for 3~4 people to enjoy the tea time

*Package size (each)
Width x Length x Depth (Inch)
7.1 x 6.7 x 0.8
#Decaf #Caffeine Free #Halal #Kosher # Artificial flavoring free #Vegan #Vegitarian #FDA #ISO22000 #No food additives #Sugar free
FAQs
It's my first time drinking flower tea, how should I drink it?
There is a coating film that occurs naturally during the manufacturing process of flower tea. It is recommended to make flower tea using hot water above 90 degrees boiled in a pot or an electronic pot.
The color of the flower tea is different from the product image, is it okay to drink it?
Since it is a flower collected from nature, The color of the petal can vary depending on the harvest time and variety.
Why was the flower tea crumbled and delivered?
KKOKDAM is doing all the work manually by human hands. Petals may be separated during the process of packaging or shipping, but we only ship products that have no problem with drinking.
What is the expiration date and how to store the flower tea products?
The expiration date is 24 months from the date of manufacture, and the expiration date is marked individually on the product. 
Please store flower tea products in a cool and dry place to avoid direct sunlight.
Shipping
Fast shipping
We ship worldwide. We ship within 1-2 days after placing an order, and we also provide expedited shipping service for gifts.
Shipping costs vary depending on the country you are shipping to and can be found on the checkout page.
Order tracking
The 'Tracking Number' can be found in an email containing the order details that will be sent upon completion of your purchase.
Get in touch
If you have any questions about products, orders or wholesale, please contact us.
Total 5 star reviews: 0
Total 4 star reviews: 1
Total 3 star reviews: 0
Total 2 star reviews: 0
Total 1 star reviews: 0
100%
would recommend this product
u2uv1z0v45fmisrzedg4d025njd5
Reviews Loaded
Reviews Added